Staying organized when planning your wedding can be a challenge.  I hope these free organizational forms and checklists help you keep your sanity in this big adventure.  I would suggest as you print them out and fill them out that you get a nice 3-ring binder and a 3-hole punch to keep things in one place and easy to find.  Adding some dividers and plastic zippered cases will make you the queen of organization!
Wishing you love and joy!
-Mary
Click link below to download free PDF — Important People & Places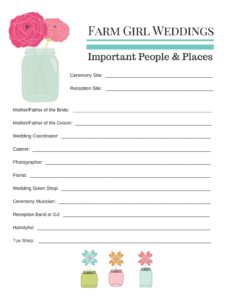 Click  to download free PDF — Planning Your Dream Wedding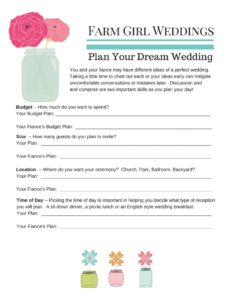 These PDF's are free for you to download and use.  If you plan to link to them from a website, please credit Farm Girl Weddings with a link to our site.  Thanks!  
Watch for more free checklists coming soon!